Words from the Woods | ACF Blog


August | 2023
Thirty-Five Years in the Woods: Embracing the Joys and Challenges of Consulting Forestry
by Jeff Hutchinson, ACF
After dedicating thirty-five years of my life to consulting forestry, I've experienced a rollercoaster of likes and dislikes that come with this profession. In this blog post, I'll share some of my favorite aspects of being a consulting forester, as well as the not-so-favorite moments that have shaped my career.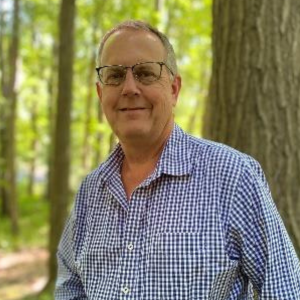 I cherish my job and enjoy talking about how I spend my days. It's disheartening, though, to repeatedly explain that I don't in a fire tower, or work for the government, or wear a funny hat.
I greatly enjoy the opportunity to work in the woods on a warm, sunny, spring day. The sunburn from those sunny, spring days before the trees have leafed out is less enjoyable. I also enjoy working on pleasant, low-humidity days and don't prefer to work in the rain, unless it rains so hard that a nap in the truck is a possibility, that is.
I relish the work environment an open understory provides. I'm not so fond of working through plants with thorns, except for during berry season, of course. I like measuring diameter at breast height (DBH) and what simple measurements can tell about a stand of timber. I dislike measuring diameter at root collar though, given it requires me to crawl around the woods like a child, which gets no easier as one ages.
An advantage to working in the woods is encountering animals not commonly seen from bears to fishers, bobcats, minks, and even an emu. Did you know that emus like apple pie? Turns out it's a proven way to entertain the big bird until an owner can be found. A disadvantage, of course, is encountering bears that are too curious and approach me rather than run off, especially when I don't have an employee working with me to at least provide a choice!
I am fortunate to have a supportive spouse who understands the demands of my career. It's unfortunate she's so attentive to detail as evidenced by the times I've been called out for having a quick nap in my office chair during work hours after forgetting to smooth the messy hair on the back of my head.
I enjoyed teaching my children about my work, even having them work with me cutting grapevines on a client's property. I did not enjoy thinking I may actually have a favorite child that day, since only one child kept informing me that it was the worst day of her life.
I appreciate that my spouse's employer offers health insurance coverage for our family and wish that such coverage was not such a financial burden for small businesses.
I'm not a fan of boring continuing education classes but I enjoy the compelling sessions at the ACF National Conference and other educational events.
I enjoy working with fellow ACF members and cherish the calls from newer consultants asking, "What would Jeff do?" Guiding and helping others in their journey as consulting foresters is incredibly fulfilling and I appreciate the experience and wisdom that's come with aging but I'm not fond of becoming a cranky – this is what happens when you ask your supportive spouse to edit your work – older forester.
Being a consulting forester has been a remarkable journey with incredible highs and challenging lows. As I look back on these thirty-five years, I'm grateful to have experienced and navigated both.